Crowdfunding Homelend Mortgage Platform
We Developed Homelend a Decentralized Mortgage Lending Platform, Peer-To-Peer Serves Two Purposes
1. Modernize old age mortgage loan system to be efficient, cost-effective, and customercentric.
2. Expand home ownership opportunities for new generation of borrowers, meet their different lifestyles and needs.
How does it work?
By utilizing distributed ledger (DLT) and smart contracting technologies, Homelend brings together individual borrowers and lenders on an end-to-end platform that simplifies and automates the entire process of mortgage origination.
Efficient & Efficient
By embedding predefined business logic into smart contracts, digitizing documentation and eliminating unnecessary processes, Homelend will automatically initiate end-to-end origination, cutting it from 50 days to less than 20.
Cost-Effective & Free-Middleman
The firmness, security and transparency provided by DLT makes it possible to record transactions, including loans, without the bank acting as an intermediary. This will reduce costs for borrowers and lenders, while minimizing the distance between them.
Transparent & User-Friendly
Homelend aims to create a loan process that is not only smart, but also simple and fair. This will allow borrowers to be able to easily apply for loans, track the status of their application at any time and interact directly with mortgage lenders.
Trusted & Safe
Centralized and paper-based processes are the key factors behind the insecurity and vulnerability that characterize the traditional mortgage industry. The unique characteristics of DLT and smart contracts allow Homelend to provide a platform for people to transact large sums of money in a trustworthy, transparent, and secure way.
Homelend Token (HMD)
The HMD token is the fuel that drives Homer's peer-to-peer lending platform. Its main functionality is to provide access to the Homelend platform.
This utility token also plays an instrumental role in enabling a fast, seamless, easy-to-use, easy-to-use workflow.
All tokens can be converted to and from HMD.
Schedule
Pre-Sales ………………….. 1 March 2018
Crowdsale …………….. TBD
Close .. …………………. TBD
Specification
Symbol ………………………..
Supply Total HMD ……………. 250.000.000
Standard ……………………
Face Value ERC-20 ……………….. 1 ETH = 1.600
Currency Received HMD … BTC, ETH, USD
Softcap ………………………… US $ 5,000,000
Hardcap. …………………….. US $ 30,000,000
Bonus (ETH / HMD)
Week 1 ………………………….. 20%
Week 2 ………… ………………. 15%
Week 3 ……………………… ….. 10%
Week 4 and After ……. 0%
Use of Results
 Roadmap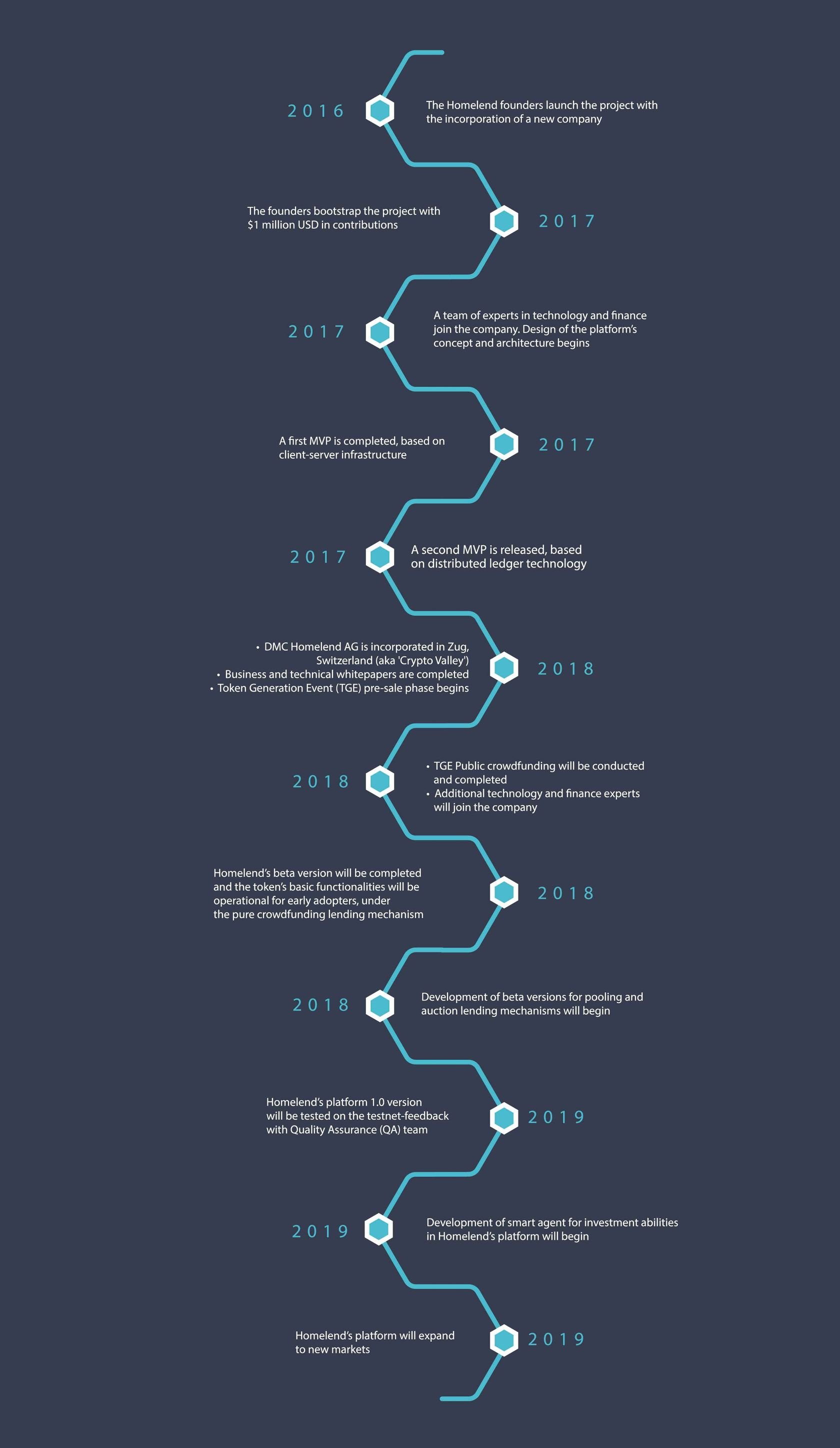 Team & Advisor